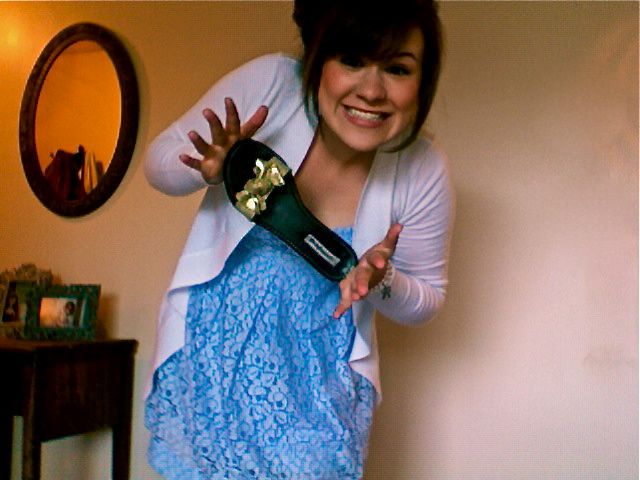 It's a webcam outfit post! The quality may be terrible, but hey. C'mon. My point-and-shoot camera and I are in a fight. Mostly because it's stupid. [Very mature points are being made here.] Blurry focusing, 30 minute battery life, and unpredictable flash are just a few of its awesome features. Is my camera a balloon salesman? Because it totally blows.
Alas, patience is a virtue and I will continue to use my five year old hunk of plastic, but today I just didn't have it in me. So like I did in
this post
, I flung open my computer, powered up that webcam, and maxed out the sharpness bar like my life depended on it. BAM. Photography.
[I also not sure why I held the sandals up to the camera multiple times, but it's done now and unlike
Marty McFly
we can't go back.]
dress: bluenotes, cardigan: sirens, bracelets: claire's, sandals: payless
Oh and this dress was only 20 dollars. So of course when I got home I instantly regretted not pulling a
Michelle Duggar
and getting 19 of them. (Or at least one in black.) Then, in a shocking turn of events, two days later when I went back to the mall they were all gone. There were so many before! Where did they all go?! Did they get deported back to the land of magical things that will never be mine*?! I guess we'll never know...
*Say hello to unicorns and Darren Criss for me.