Hmm. What
is
in my makeup bag?
Answer: Nothing too crazy.
My makeup is mostly comprised of drugstore brands, with the exception of a few NARS products because Francois and I are in love.
This Joe makeup bag was inexpensive and colorful, so naturally it caught my eye. I'm like a circus talent scout in that way. But the best part about it is the double zipper/separate compartments. I try to keep things semi-organized here. This is a makeup collection not a zoo.
REVLON LASH POTION WATERPROOF MASCARA
★★★
☆
☆
This has never smudged on me and it holds a curl well. It's not the best mascara I've used though and I probably won't be repurchasing. Mostly because the brush on it is gigantic. Some may like that, but I find it can sometimes apply too much product and cause lashes to clump together.
REVLON COLORSTAY EYELINER
★★★☆☆
Fairly long-lasting, which was what I was looking for, but it can be kind of a bitch to apply. It can be hard and waxy too but I guess that's what you get with a long-wear eyeliner. The black version of this also seems to turn blueish after several hours on my upper lash line. Not the best look!
REVLON COLORSTAY FELT TIP EYELINER
★★★★★
A perfect felt tip eyeliner! This applies great and is very pigmented. It allows for a lot of precision when forming crazy winged liner. CHOLA.
RIMMEL SOFT KOHL EYELINER
★★★★☆
Not as long-lasting as the Revlon stick liners, but applies so much better and is a true black. I usually use this first, then go over it with the Revlon felt tip liner. Double teamin' it.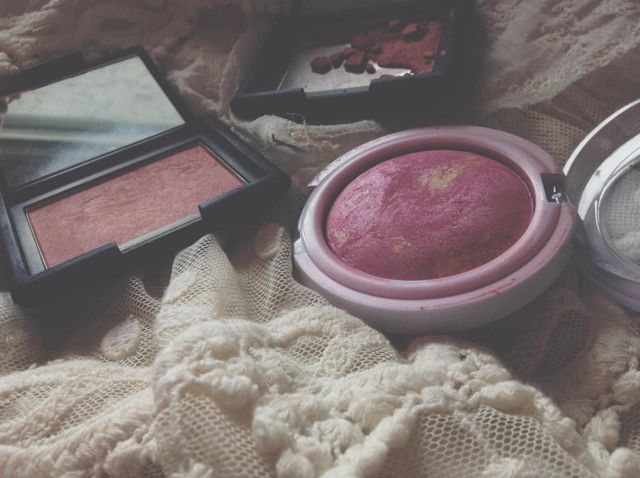 NARS DEEP THROAT BLUSH
★★★★☆
This is my newest, and therefore my most favorite, blush. The color is gorgeous too, kind of a fresh peachy-pink on my pale ass skin. It breathes life into me!
NARS ORGASM BLUSH
★★★★☆
My baby is smashed into a million pieces... This was the first NARS product I ever bought and it has lasted so long. I love its shimmer. Super Orgasm is the next blush on my hit list.
HARD CANDY LIVING DOLL BLUSH
★★★★☆
This is a really fun color. It's a bright/almost neon pink shade and applies true to the pan. It has a nice sheen to it too. I like mixing other blushes together with this one on the skin. It enhances and adds pizzazz to any other shade.
RIMMEL WAKE ME UP FOUNDATION IN IVORY
★★★★☆
I absolutely love the dewy finish and slight shimmer of this foundation. It's very natural looking with nice coverage. However this foundation line has a terrible shade selection, each one seems to be really yellow-based. This definitely works better when I'm more tanned. Will probably repurchase next summer.
MAYBELLINE DREAM LUMI TOUCH HIGHLIGHTING CONCEALER
★★★★★
My holy grail concealer. This is my most repurchased makeup product. It covers blemishes and brightens dark areas wonderfully. I go through tubes of this so quickly.
PHYSICIANS FORMULA MINERAL WEAR AIRBRUSHING PRESSED POWDER
★☆☆☆☆
I. Hate. This. The package says this powder is translucent but it leaves yellow splotches on my skin and it requires some serious blending. It's way too dark and I feel stupid for buying it. It came with this little brush that sucks. It was 20 dollars so I feel like I have to finish using it. Also airbrushing, my foot. This product was so disappointing.
NARS LAGUNA BRONZER
★★★★★
This is the best bronzer I've used. It's not too dark or too light, and not too shimmery or too matte. I feel like Goldilocks right now, but you know. It's a good thing! Now I feel like Martha Stewart... ugh help.
NARS CHARADE EYESHADOW DUO
★★★★★
These are my favorite eyeshadows. The first shade is a dusty pink/salmon and the second is a soft browny lilac color. Both shadows are gorgeous and natural looking. I read that this duo flattered brown eyes so I really wanted to try it and I regret nothing!
MILANI BROW FIX KIT
★★★★★
This brow kit works wonders in filling in the sparse caterpillars that I call eyebrows. The highlight that comes with this is wonderful too.
MAYBELLINE GREAT LASH CLEAR MASCARA
★★★☆☆
I just use this as eyebrow gel. It does its mundane job quite well.
ECOTOOLS ASSORTED BRUSHES
★★★★☆
Cheap brushes. Probably should not have included them. They are soft and get the job done though.
SHESEIDO EYELASH CURLER
★★★★★
My friend Alyssa recommended this eyelash curler to me and I'm really glad she did. It is perfect. It never pinches the skin around my eye, my old curler did and I hated it. My how the tables have turned.
Weew, that's all. Thanks for reading and have a good weekend!